We own a large portfolio of trademarks, patents, design rights and copyright registrations throughout the world which protect our illooms® products. These registrations represent over 10 years of hard work by our employees in the extensive research, design, and development of illooms® as well the significant investment by the company in the protection of our unique, innovative illooms® products which are now distributed in over 90 countries worldwide.
We act daily to identify and report fraudulent sales listings but unfortunately, websites selling infringing products do still appear in search engine listings, sponsored results and on various e-commerce platforms. We actively and aggressively enforce our intellectual property rights to the fullest extent of the law in order to protect the valuable time and financial investment we have made in illooms®.
Our legal department handles hundreds of incidents involving infringement of our intellectual property rights and regularly bring infringers to court, making sure that wholesalers, retailers, and consumers can have confidence that anything that bears the illooms® trademark is a genuine illooms® product. This is in the best interests not only of our company and its employees but also for consumers, primarily children, all over the world.
With our legal team, trading standards, customs and law enforcement officers, we aim to ensure that illegal goods never make it to their planned destination and, that legal action is commenced against those involved. Where items do arrive on shelf, we work with the relevant legal authorities to ensure the prompt removal and recall from sale of those infringing products and the destruction of those products at the infringers cost.
We've come a long way with our product since it was first released to the market more than 10 years ago, both in terms of design and the light up mechanism. However, we find that the majority of infringers are closely copying the first generation of illooms® which used to look like so: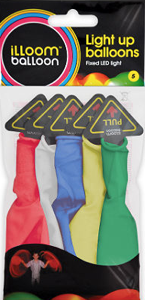 When shopping for genuine illooms® online make sure that the listing shows pictures of the actual product that is being sold and that the packaging bears our ILLOOMS trademark.